Are you frustrated by downloading separate applications for editing your PDF and looking for a permanent solution that provides all the important tools in one place? If yes, then Xodo PDF Reader & Editor is the perfect choice for you.
Now, easily edit your PDF with all the necessary functions and save your progress by syncing it with google drive, Dropbox, and Onedrive.
Introduce about Xodo PDF Reader & Editor
Xodo PDF Reader & Editor is a trending productivity application for android users that provides a perfect document reading interface. The application offers lots of amazing features such as an intuitive interface, dark mode, annotation, fill and sign, and many others.
One of the best features that I like most about this application is its dark mode interface, which delivers a fantastic experience to the users. There are lots of benefits to reading in the dark mode as it allows you to focus more on the text and less on the surrounding elements. You can anytime switch between dark and light mode from the settings of this app.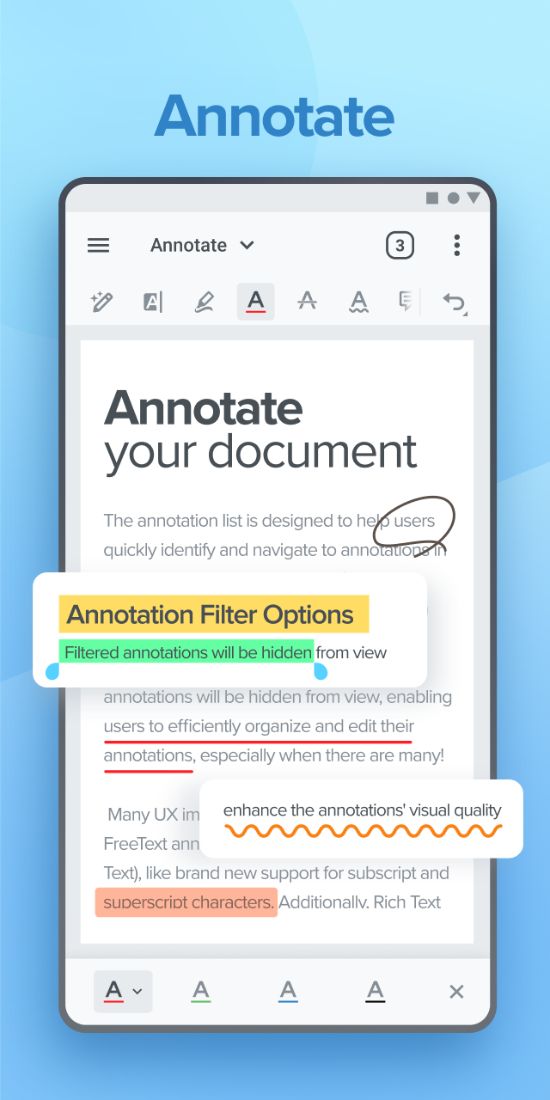 The app has several features that are designed to improve the reading experience, including a zoom feature that allows users to zoom in on text or images in a pdf document.
Annotate
Xodo is a pdf reader that also allows you to annotate and highlight your pdfs. This can be really useful for taking notes on class readings or marking up essential sections of a document. The annotation tools are easy to use and allow you to add text, arrows, and highlights to your pdf.
You can even add text boxes and shapes to illustrate your point better. These annotations are saved with the document, so you can always go back and revise them as needed.
Built-in search
The Built-in Search feature of the Xodo PDF Reader is a great way to find specific text in a document. The search tool is located in the toolbar, and you can use it to find the text you are looking for quickly.
The search results are displayed in a list, and you can quickly navigate to the location of the text. It is very fast and accurate, and it's a great way to find information in large documents.
Document bookmarks for quick access
The most helpful feature of this application is document bookmarks that allow users to make marks or highlights on a PDF document and save the location of the marks for future reference. The bookmarks can be used to return to specific parts of the document quickly.
To create a bookmark, simply click on the desired location in the document and select Add Bookmark from the menu that appears on the top of your device. The bookmark will be added and will seem like a small triangle in the upper-left corner of the page. To delete a bookmark, select it and click on the delete option.
To view all of the bookmarks in a document, select Bookmarks from the menu bar. This will open a list of all of the bookmarks in the document, along with their respective locations.
Fill and sign documents
There is no better application than the Xodo PDF app to fill and sign pdf forms from the smartphone. This app has a built-in feature that allows you to fill in and sign any pdf form with just a few taps.
All the options are available in the application's toolbar that can be accessed with just one click and lets you do your work in no time.
Powerful conversion tool
Thanks to the powerful conversion tool feature of this application that lets users convert PDFs to different formats with just a few taps. The app can convert PDFs to Word, Excel, PowerPoint, JPG, and other formats. This makes it an all-in-one tool for business professionals and students who need to access their PDFs on multiple devices.
You can also try PDF Extra, Noteshelf, and WeNote for other PDFs related tasks.
Mod APK Version of Xodo PDF
Xodo PDF MOD Apk is a modded version of the official Xodo PDF Reader & Editor application with the help of which you can write directly on the PDF and make any necessary changes directly from your smartphone.
Mod features
Pro Unlocked – In the Xodo PDF Pro Apk, you will get a Pro subscription unlocked without spending a single penny which means you will be able to use all the paid features without restrictions.
Download Xodo PDF MOD Apk for Android 2023
Xodo PDF Reader & Editor Mod Apk also comes with a File Organizer option that helps you to keep your files organized and easy to find. You can create folders and sub-folders to store your files in, and the File Organizer will keep track of them for you.
The selection mode allows you to select text or images in a document and copy them to the clipboard. You will get regular updates of this modded version of the application on our website.