Are you looking for an app that helps you to stay up-to-date on the latest weather conditions and plan your day, week, or even longer in advance? If yes, then you would love the Windy.com Apk.
Introduce about Windy.com
Windy.com is a perfect weather forecasting application that includes advanced technologies which are designed to deliver highly accurate forecasts in real-time.
One of the best things that I like most about this application is that it allows you to add your favorite places which need to be tracked frequently.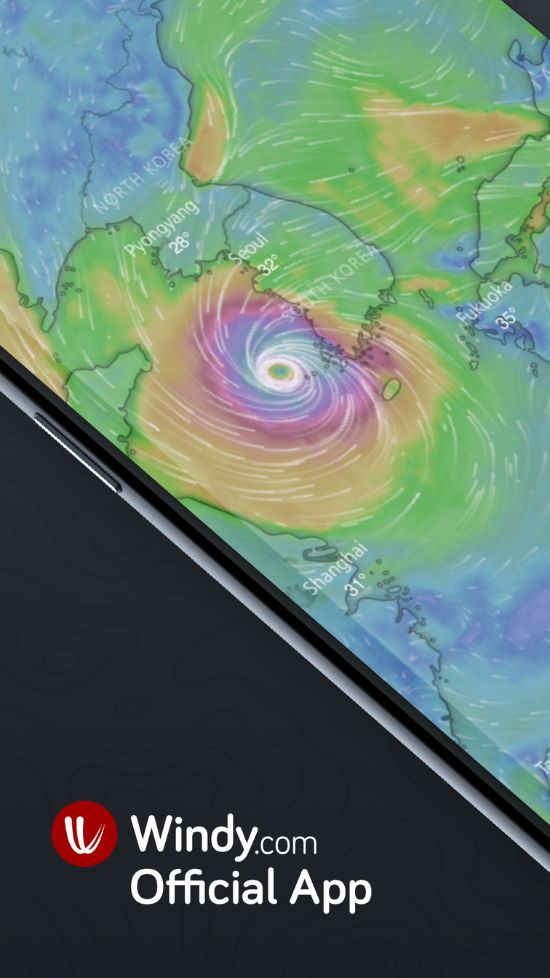 Weather forecasting
Windy Apk is known for its weather forecasting feature that provides you with data from a different perspective. Its main purpose is to provide users with multiple views that allow them to plan their outdoor activities in the line with their own preferences.
The app has different layers which display the current weather situation in an informative and visually appealing manner. It provides a range of perspectives such as temperature, wind speed, direction, humidity, pressure, precipitation forecast, cloud layer, or even snow depth maps.
It allows you to compare forecasts from several reliable sources in one place and easily customize the view according to your needs. It helps you to save time by quickly switching between layers without having to search for each source separately.
Long term forecast
Long-term forecasting or extended forecasts is my favorite feature of the Windy application that provides me predictions of weather conditions over a longer period of time.
These are completely based on complex mathematical models because these results come after taking various factors into consideration, such as air pressure, temperature, humidity, and wind patterns.
Whether you are a farmer, construction worker, event planner, and traveler, this application is going to provide you with a lot of helpful information about upcoming days' weather and helps you to make decisions.
Intuitive interface
Through its intuitive interface, the Windy.com app makes it easy for anyone to access reliable, detailed weather forecasts quickly.
The main design focus of the Windy App is simplicity and ease of use. Its user interface has been carefully crafted so that even those who are unfamiliar with complex technology can easily navigate the application and find what they're looking for.
The app provides not only traditional forecast elements such as temperature, humidity, cloud cover, and wind speed but also adds innovative features like lightning strikes that are essential for understanding more complex aspects of the environment. Each element is graphically represented through one of many available maps so users can quickly ascertain any changes in their surroundings.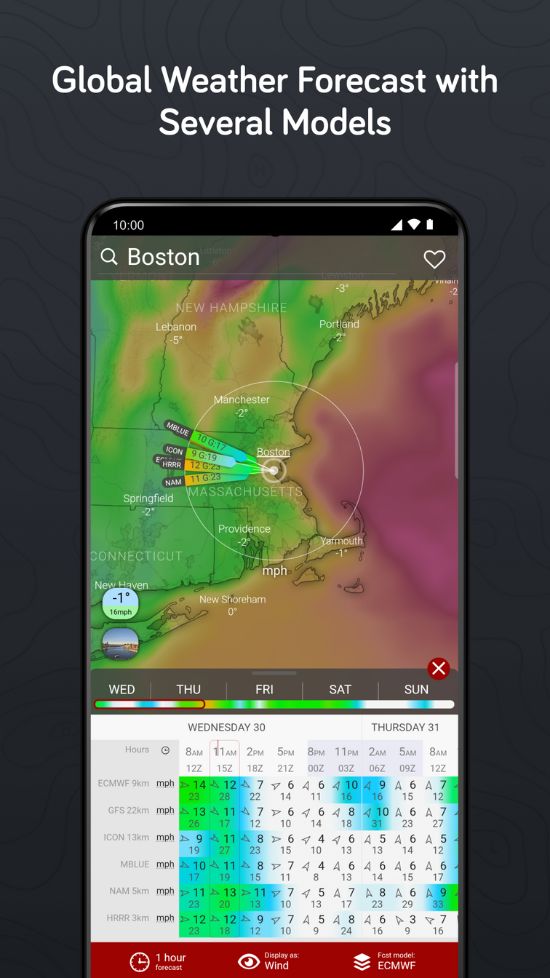 Forecast model comparison
Windy.com Apk has an exclusive forecast model comparison feature. It not only allows you to see how accurately each model predicts the weather but also to better understand how these models work and what they are based on.
It provides an easy-to-use interface that gives users access to all of the major global forecast models and their associated data. With this information, you can quickly compare multiple models side by side, allowing you to make an informed decision about which one is the most accurate for your specific location or needs. Feel free to customize the view to focus on one particular model or show all of them at once. Moreover, Windy.com has taken steps to ensure accuracy by including real-time data from various sources in its forecasts.
You can compare different forecast models, including ECMWF, GFS, ICON, and AROME-METEO. All these models are updated every six hours and offer three-day forecasts with temperature predictions as well as wind speed and direction information. Moreover, Windy App also provides additional data layers, such as precipitation intensity or atmospheric pressure, that can help users better plan their activities according to the incoming weather conditions.
There are various other weather apps that you can try, like Flowx, Overdrop, and Weather Liveº.
Download Windy.com Apk v37.2.5 for Android 2023
Windy is a world-famous application that supports multiple languages to help users get their content in their native languages. The original version of this application gets updated regularly, and you can download them from this website.